Recently I shared a
Carver Chair makeover
that was one of a bunch of chairs I'd picked up from a lady to a garage clean out. Part of the haul were two of these chairs... there is probably a professional name for them (I think they're Windsor chairs) but I call them kitchen chairs. They've sat around for a little while, but I finally got on to the first one of them a week or so ago...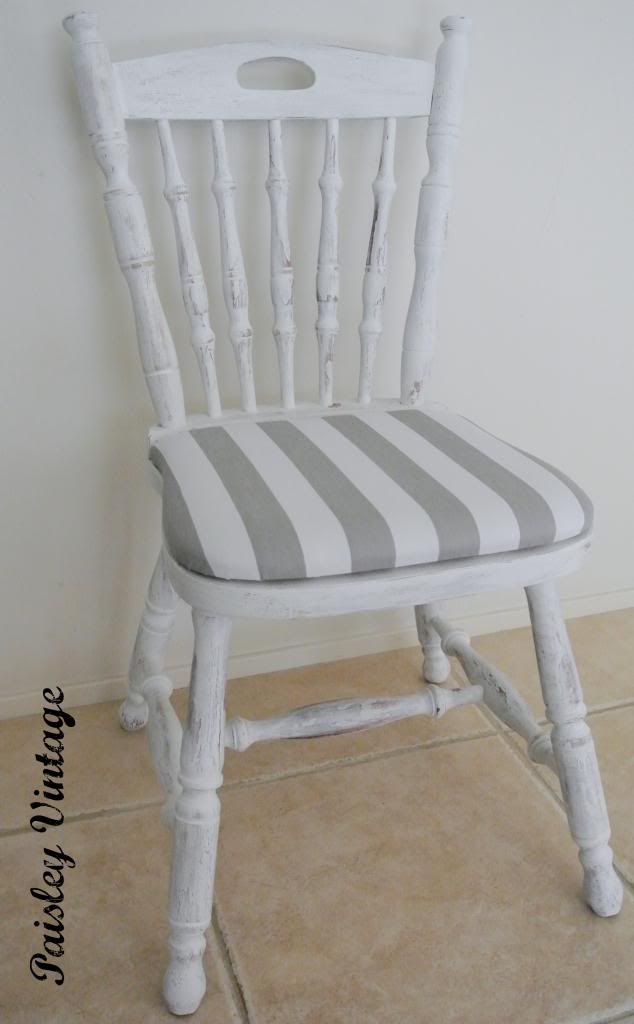 I really wanted a heavily distressed look for this chair, so I used home made chalk paint and then went crazy with the sanding. I seem to go through stages, and distressed is my stage at the moment ;) And I think it suits this style of chair, with all her curves I think the peak of wood through the paint works well.
I went with a faded grey and white stripe for the seat which I love. I have enough of the fabric left over and am tempted to do the other one the same. We'll see :)
For the locals I thought I should mention that I won't be heading to Avoca Beachside Markets this month. I needed a rest from churning out enough pieces to fill my stall in the month, and decided to give my sister a rest too. Bronwyn has come to almost every market since I started, driving over an hour to get here, help me pack the two cars, listening to me get nervous and second guessing everything, spending the day, packing up at the end of it, and then driving home again. I definitely wouldn't be able to do it without her help, and I know it takes up a whole weekend for her. THANK YOU BRONWYN!!! So I'll still have pieces for sale on-line, via my
For Sale page
or my
Facebook Page
, and I'll be back again in July.
Thanks for stopping by...
I'm sharing at...
Twelveoeight
Not Just a Housewife
Domestically Speaking
DIY By Design
Miss Mustard Seed
The Shabby Nest