The first of my house goals for 2012 is Emma's room. Having never really done anything with her room, and finding a few pieces to inspire me, I thought I'd start here first. You can find my mood board
here
. My first project is this dresser...
As I'm sure I probably would have done given the chance as a teenager, the dressers' previous owner had painted her name all over. Including on the inside back of the frame. Hence we're calling her Jacqueline.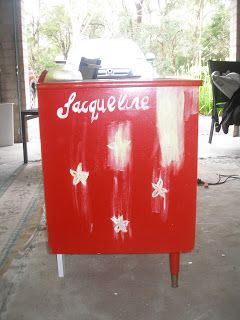 I've had these two gorgeous dressers pinned on pinterest forever. I wavered, but in the end decided to go with my original inspiration.
I was all fired up to finish the dresser a few weeks or so ago, when I realised that I had thrown away the drawer pulls. THROWN AWAY VINTAGE DRAWER PULLS. I spent a few days kicking myself, and then thank goodness, found some others on the net. (I am still kicking myself, but I will get over it!)
Here she is...
Emma is happy and so am I. She has some... ahem... blemishes, but we'll look past those won't we! So that gets the ball rolling for Emma's room - hooray!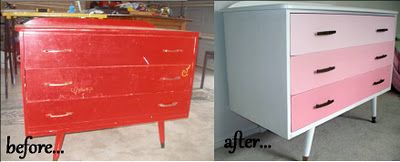 I'm linking to
Primitive & Proper
,
Make Grow Thrift
by The Habby Goddess,
Miss Mustard Seed
, and
Primp Your Stuff Wednesday
.