After having Emma in 2008 I went to the local health clinic for their baby health classes. When the classes finished a bunch of us continued to meet, and as time passed this whittled down to a group of five women and their bubs (including myself and Emma) who have become great friends. Having a group of mums going through what I'm going through, at the time I'm going through it, who offer both support and friendship, has been wonderful. That Emma has a little group of friends to grow up with, learn things with, and have fun with, is such a beautiful thing to see.
Since then we've met almost every week, as well as started up a few extra-curricular activities ;). Marissa and Amy have also given birth to their second babies, and Kelly and I are due for ours in March. Because these women have been such a wonderful support in my life, I've tried to make their children handmade gifts - wanting to repay their kindness by putting the effort and thought into making something special for them and their child.
So, after such a long introduction, I found a softie pattern for a goose that I just fell in love with, and that I think is perfect for a baby gift.
http://thelongthread.com/?p=173
Here's my gorgeous edition (I'm smitten!)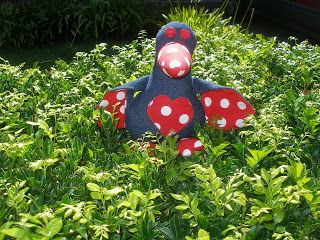 The instructions for this softie are really straight forward and it's wonderful to have a printable pattern rather than doing the maths / guess work that's often needed for online tutorials. I even love the suggestion of putting it with a book, though I'm not sure mine is right for 'Lucy Goosey', so will have to keep my eyes open for the next month or so for something more like my creature! Needless to say, I'm very pleased with him, and pleased I'm so organised ready for the birth of Kelly's baby.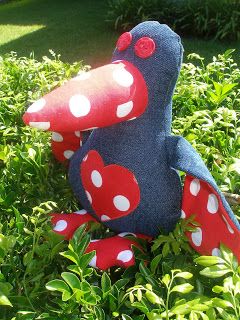 Given he's so adorable, I'm think I'll have to make another one for my bub too!