This year I wanted to start some Christmas traditions with my family. Our Advent calendar is full of activities rather than sugar, and will hopefully be an exciting thing for Emma and Harry to do each morning during December.
I saw this gorgeous example on the
Just a Girl blog
and thought it would be perfect for us.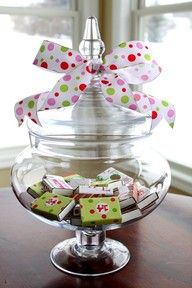 Rather than a jar, I used our salad bowl! It's easier for little hands to search for the right number, and less likely to get broken (I hope!).
It was harder than I thought to come up with ideas - most calendars seem to be filled with lollies or toys. I wanted this to be about the things we can do together, so here's our list...
Decorate the tree
Read a Christmas book
Colour a Christmas picture
Write a letter to Santa
Buy / borrow, and listen to, some Christmas music
Make a Christmas card for Emma and Harry's friends
Make a Christmas treat for a friend
Make Christmas decorations
Get a photo taken with Santa
Hang our Christmas Stockings
Have a picnic in the park
Make a Christmas treat
Make a Christmas picture for someone and post it to them
Buy a gift and place it under a charity tree
Borrow a Christmas book from the library
Make popcorn and watch a Christmas movie
Go to a Christmas Fair
Go to the Carols
Buy our dog a Christmas present
Wrap some presents
Camp out under the tree
Drive around and look at the Christmas lights
Make a Christmas card / place card for Gran
Leave a treat out for Santa
I'm excited about starting - Emma is already asking about our tree, so December 1 here we come!