My first coffee table to ottoman conversion turned out so great that I've made another one! And when ottomans can be upwards of $500, why not?
There are loads of tutorials for making an ottoman around the place including this one from
Design Sponge
, so I'm not going to re-invent the wheel. What I can do though is share my tips for making your own! Here's the coffee table I used for this project - it was perfect because it had the two things I was looking for... the right design features and curves in the right places!
Make sure you pick a coffee table that either has a lip around the table top, or you can remove the legs. Either way, this will make it easier for you to attach your fabric and means you can finish off the underside nicely. I'm yet to find one where you can easily remove the legs, but I'm sure they are out there.
Don't you just love these legs!! The two I've done have had shapely legs, and I think these really make the ottoman. You also need to think about height - considering the height of the legs and then adding your foam on top. The last thing you want is something that's too high.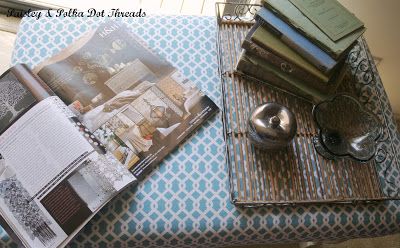 My last tip is about the cover. Over the top of my foam I add a piece of stretched wading to add extra softness but also hold everything together. I think this makes a huge difference and shouldn't be left out. And your fabric? Make sure you use upholstery or home decorator fabric! The fabric needs to have some weight to it - I know some of those quilters cottons are beautiful, and I was eyeing off some vintage sheets that I thought would look beautiful, but they just wont hold up over time.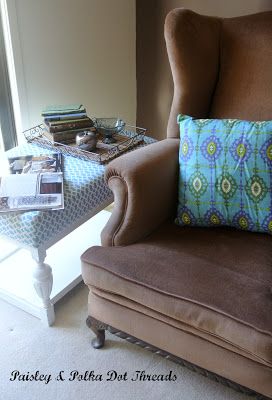 So there you have it - A coffee table turned ottoman and my ideas to help you make your own!
Thanks for stopping by!
I'm sharing at...
Not Just a Housewife
Sugar Bee Crafts
Live Laugh Rowe
Primitive & Proper
Redoux
Miss Mustard Seed
Scandi Coast Home