A couple of months ago I bought two dining chairs ready for a makeover. The first one you can see
here
, and here is the second one...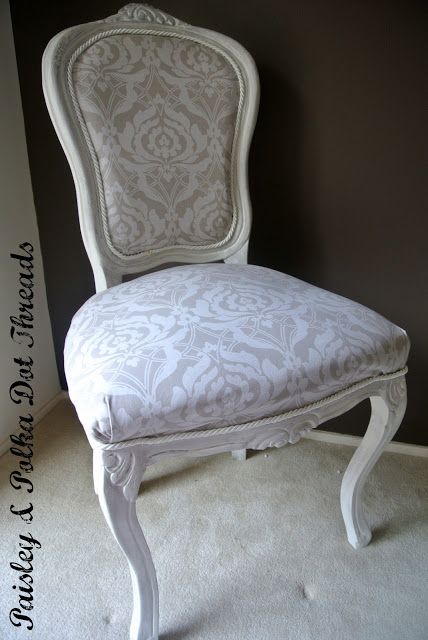 I cursed and grumbled about the first chair - I was mis-stapling all over the place when doing the back rest - but as predicted the second chair makeover went a whole lot easier. Probably the hardest thing for me was finding the right fabric. I knew I wanted a white-ish frame, with a bit of grey, so finding something in the right tones, and with a bit of pattern, was more difficult that I thought... but I think this damask does the job beautifully!
I painted the chair Antique White and then rubbed it over with a hodge podge grey I already had mixed, and finished it off with a coat of wax. I looked all over for fabric and finally found this damask pattern which I think has worked out lovely.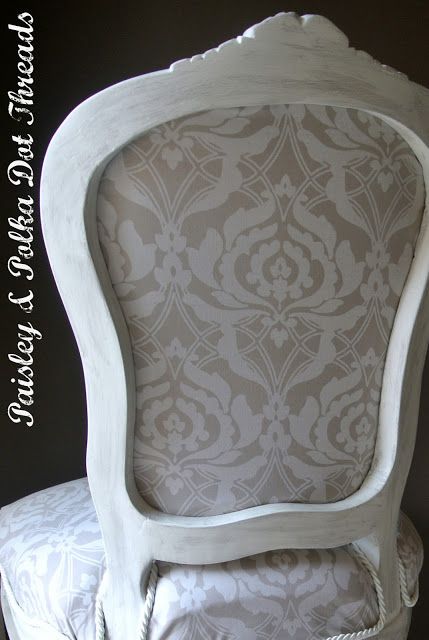 One of the fiddly bits was attaching the piping around the back rest and chair, which covers the stapled fabric. It was one of those things I had to have ALL my patience for, and just did a section at a time. If something didn't fit right I would just re-work it again. And eat another chocolate almond :)
So the two dining chairs came out completely different, and I'm happy with both! I can see how both would both in different types of rooms, depending on your style. On different days a different one is my favourite...
SO what do you think - are you a bit shabby chic or bold statement!
Thanks for stopping by...
I'm sharing at...
Under the Table and Dreaming
Twelve0eight
Primp
Miss Mustard Seed
Too Much Time on my Hands
Live Laugh Rowe