Just a few pics today... I'm exhausted! Things have been so busy the last week or so that I'm really in need of some time out. Or an early night. Or how 'bout a day on the couch with popcorn and movies?? I remember the days...
I haven't decided exactly what to do with these as yet, so if you've got a suggestion throw it in the ring! You can comment here or on
Facebook
.
If you've been following along you'll know that this isn't the first Queen Anne stool I've made over, but I couldn't help picking this one up too! This time I think I'm doing white.
And how orange is this high chair! It is covered in so much lacquer she's a bit sticky, but she could be lovely. I'm tossing up between fire engine red ('cause it's unisex) or white, with tiny hand painted bunting across the back and maybe on the seat.
In case you're wondering, no I'm not expecting a new little person. Two is enough thank you very much!! I've booked in to do a new market (for me anyway) that tends to have loads of children's things, so I thought this piece would be a great one to take along.
Ok last one...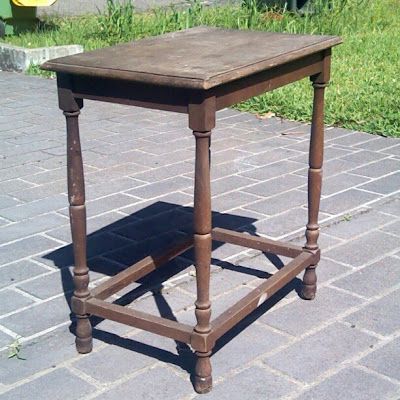 I shared this one last week, but it's still on my mind. I'm tossing up between a bright colour, like red or yellow (I'm thinking a great pop of colour for your lounge room) OR white, with a white / blue / green map page on the top. I have the perfect pages... Thoughts?
Thanks for stopping by...