I have to say, I'm pretty keen on this one...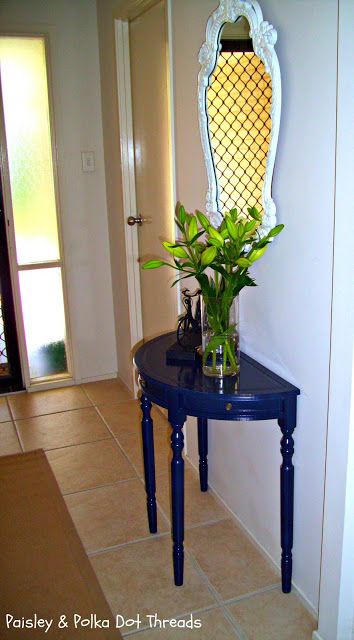 I've been looking for a hall table for a little while, but everything I have seen was upwards of $50... totally out of my price range. Lucky for me, someone else reneged on the ebay deal for this hall table, so the seller emailed me and offered it for $10. Hooray! With a coat or two of Galaxy Blue it brings some much needed colour and character to the room. It's a small beginning, but it's a cute one!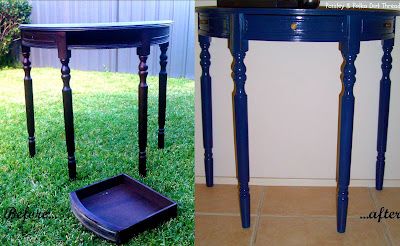 The mirror was another eBay find, given a coat of white paint to freshen it up. In case you're wondering, the gold looks far better in the picture than it did in real life. Gold and brown painted plaster. eww.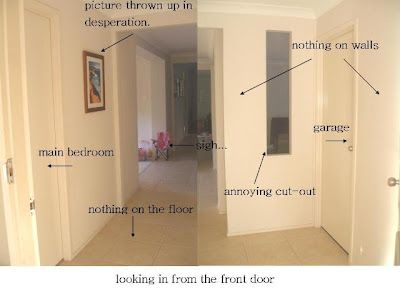 Exciting right? Look at those walls, those tiles, and... yep,
NOTHING
. I opened the door of my home into a lift. Or a doctors surgery. Ho Hum. Needless to say I put it at the top of my list, along with Emma's room, for a makeover this year. I did imagine that I would knock these over easily, but actually it's taken me longer than expected to find exactly what I want. Now you see the start of something new - the rug is there ready for me to paint, and I have some art work ideas for the other two walls.
Now when you look in the front door you see this!
Thank you so stopping by!
I'm sharing at..
The Life of a Not So Ordinary Wife
Between Naps on the Porch
Primitive & Proper
Not Just a Housewife
Live Laugh Rowe
aka Design
A Simple Home Life
Family Ever After
Too Much Time on My Hands