One of my home goals for the first half of the year is to decorate Emma's room. I started with
Jacqueline the Ombre Dresser
...
... and have just finished a gallery wall.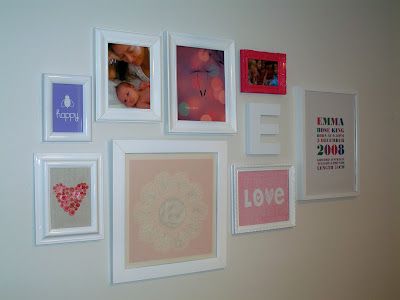 With this project I tried to use only things I could find around the house. Spray paint - check. Old frames sitting in a box - check. A bucket load of pins ready for printing - check! I was half way through this one, and feeling a like I just couldn't get it right, when I read a post over at
The Nester
about the beauty of imperfection. And then I gave myself a kick in the butt and finished it.
I admit I'm guilty of not finishing because I'm holding out for perfect. I looked for beautifully ornate frames - couldn't find any. Every time I brought the frames from the garage into the house I some how seemed to chip them (walk into the wall, trip over toy, leave it for my 11month old to drop onto the ground etc etc). Now they are on the wall there is something not right... I think the colours aren't balanced. I don't know. Something. Oh, and the paint is really really uneven in parts. And then there's the photo - I took one and my camera died.
BUT - when my husband came home today Emma took him into her room and said 'Look what Mummy made me', and then it didn't seem so imperfect any more.
Here's some of the details...
Bee Happy print - This is from Sprik Space. Check this site out, there are loads of wonderful freebies and great project ideas.
Button heart - a really simple project, but I think it looks so cute! All it is is buttons glued onto calico.
The Dandelion print is from here. I put 'hand in hand' on it, quoting the photographer.
'E' for Emma - I plan to cover it following this tutorial by Little Things Bring Smiles. When I get to it. Or maybe I won't. We'll see.
'Love' print - This is another free printable, this time from Makoodle.
Birth details poster - another easy one, created in Publisher.
Emmas' room is starting to take shape. I'm loving working on it, asking what she likes (pink) and doesn't like (anything that's not pink), and seeing her smile when she sees something new.
I'm sharing my beautiful imperfection at
The Nester
.