This chair was given to me by a friend who was in the process of cleaning out her office. There were loads of old props and when she saw this chair she thought of me! :)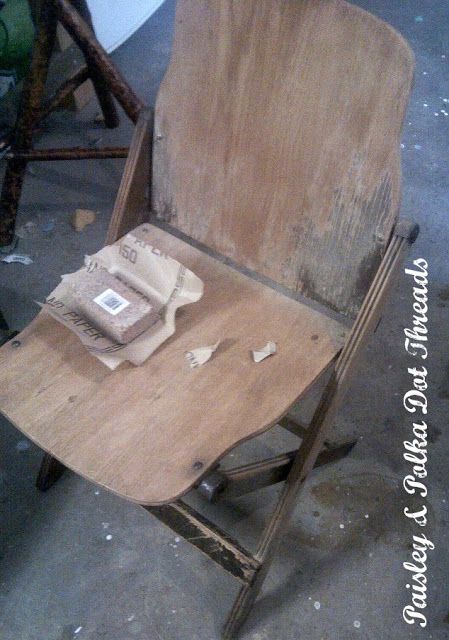 Originally it was covered in a goldy kind of varnish, it had started to peel and though I was kinda liking the look, I eventually decided it had to go. The photo above is about half way through sanding the chair seat (I nearly always forget to take 'before' photos) and you can make out the varnish on the right hand side.
When I posted the above photo on
facebook
someone mentioned she'd had these beauties at her school for assembly. I can just imagine ;) The fold up flat, so I can just imagine the kids folding and packing away after the formalities.
I followed the chalk paint recipe shared by
The Apprentice Extrovert
, which I loved. I'm definitely up for using it again! You can see in the picture above how great the peeling looks, and with a coat of wax over the top it's smooth, and beautiful!
As I go along I'm finding my taste in furniture and home decor changing. I love the look of the chalk paint - the character it gives is amazing, and something I would like more of at home. I'm searching for a set of drawers for Harry that I'd love to use this technique on - I just have to find the right piece!
Thanks for stopping by...
I'm sharing at
Sugar Bee Crafts
Primitive & Proper
Domestically Speaking
Miss Mustard Seed
The Shabby Nest