This year for Father's Day we were on a tight budget. I mean really
tight
(I am also harboring a tiny grudge from Mothers Day, but that's another story ;) ).
So for Father's Day, I made Emma and Harry some Dad love t-shirts and photographed them wearing them. The photo-shoot was hilarious (read : insanely difficult) - when one smiled the other frowned (or worse still cried), so they got individual photos instead. I framed the photos for Danny to put on his desk at work.
Freezer paper t-shirts are so easy! I followed this
tut
, though there are a million around.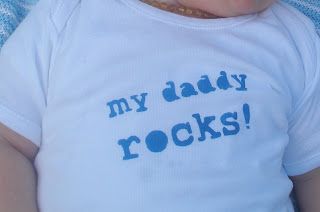 It was so cute seeing them in their t-shirts on Sunday morning. I have two more cut and ready for 'painting', I just need five minutes!
My other project for Father's Day was something I salvaged that relates to my Dad. I have a post about it in draft, I'm just waiting to get the perfect 'after' photo. It's taken up most of my time - I've never done anything like it before, but I have to admit that I have caught the bug and there are other projects like it just waiting for me in the garage!