I've added a few soft furnishings to Emma's room - it's just about 'finished'.
When I saw these ruffled curtains on Pinterest I knew they were perfect for Emmas' room.
Besserina
provides an amazing tutorial; I bought some pre-made curtains at Spotlight for $18 (yay!!) and bought some extra calico to make the ruffles. I'll admit it did take me a while to get all those ruffles ironed and sewn onto the curtains, and very red hands after scrunching them, but I love the result!
The sewing machine really has been getting a work out this week...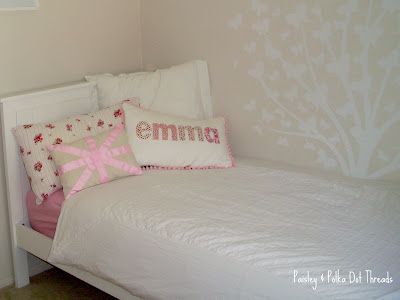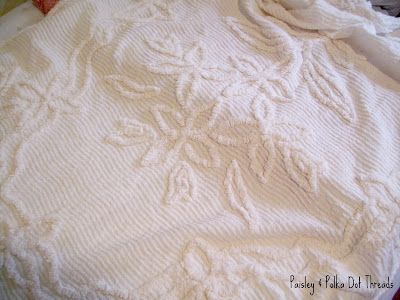 Vintage chenille! I'm in love. One of Mum's friends was
throwing it away
(gasp!!). Thank goodness we found it! I'm hoping it will make a gorgeous bed spread, I just need to work out how to do it.
So I'm feeling like Emma's room is coming along OK, slowly, but OK. I've got an idea for a bed side table, some storage / shelving, and reading lamp and bookshelves that should take me... oh, who knows!!!
So, did you set home/craft/project goals for 2012? How are you going with them?
Thanks for stopping by!
I'm sharing at
The Habby Goddess
Not Just a Housewife
Sugar Bee Crafts
Tip Junkie
livelaughrowe
The Shabby Nest