I've been inspired lately by some amazing re-purposing projects, and during my last visit to the thrift / opportunity shop I picked up a few things I thought might work for summer dresses for Emma. Here's what I came up with...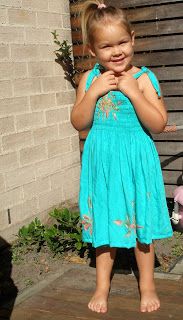 The first thing I've tackled is this shirred dress or skirt; I loved the colour and at $2 I thought it would be a great practice run. I actually tried it on myself but it looked
terrible
. Lets just say I have too much going on for a dress like this!
To start with, I laid the dress out on the table and ran a line of pins down one side for a new side seam. The great thing about this style is that the shirring and gathered skirt are quite forgiving - so I went straight down from top to bottom, cut off the excess and then zigzagged over the edges. I thought the top might be a little big, so I cut some off the top and then zigzagged the edges.
From there I hemmed the bottom and created some straps from the excess material. The straps are simple rectangles of fabric, but I also thought about using ribbon or braid (I probably would have gone for some ribbon if I had some in the right colour, but I was trying to stick to a very limited budget, so I went with the material straps).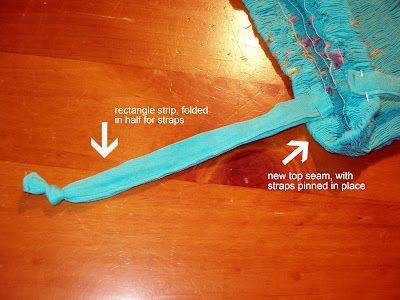 And here is the finished product! Not bad for $2!!
For me, the hardest thing was cutting into an already complete garment. But once I started it was so quick - when you're working with something that is already basically constructed there are much fewer steps than if you were starting from scratch. I'm a bit keen to start on the other dress now, and to think about what I might find for Harry (and me too!).
I'm sharing at...
The Habby Goddess'
Make Grow Thrift,
Not Just a Housewife
Live Laugh Rowe
The Train to Crazy
The Shabby Nest
Sew Many Ways
Thanks for stopping by!