Baby Max has arrived! After writing about my lovely friend MJ and her Baby Shower gifts
here
, I've made one more gift for bub. Let me introduce you to 'Wombie'.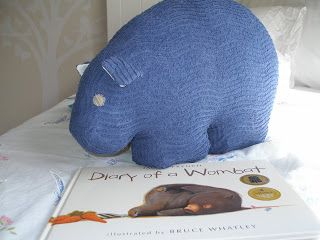 I had a piece of dyed chenille leftover from Harry's pram liner, and thought it would be perfect for a furry wombat. I'm thinking he can be used as a feeding pillow to start with, as well as a toy / pillow for Max when he gets a little older. It's just so cute, I'm thinking of making one for Harry too.
I followed a pattern from One Metre Wonders by Rebecca Yaker and Patricia Hoskins. I really love handmade gifts, and I hope MJ & Brett, and most especially Max, will love Wombie too.
I'm sharing at
The Haby Goddess
and
Sugar Bee Crafts
.